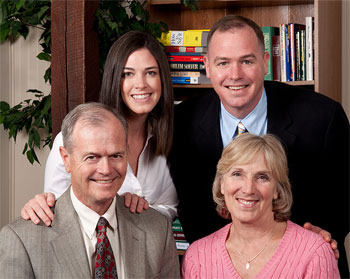 About Us
Behind the scenes at Walker Realty
M.C. Walker Realty is a family run organization for more than 45 years. If not directly related to Mark and Lorie, agents and co-workers are treated like family. The Walkers take care of those around them and have a genuine love and concern for those that walk in the doors at Walker Realty. WR is a well established small business willing to go the extra mile to accomplish what needs done. Mark and Lorie have you in mind when making decisions, even when they make life decisions. This business is their baby and has been even before they had babies and now they have 6 children and 16 grandchildren.
You will immediately feel the warmth of Lorie's smile when you meet her, she is a lover of all things human! Her soft spots are family, babies, tennis, chocolate covered almonds and sweet coffee. When you meet Mark he will greet you with a firm handshake a look in the eyes and a smile welcoming you into his life. He rarely forgets a face, loves the outdoors, his favorite quote is Press On, has a deep love for family and a great passion for real estate!
We are always thankful for our past, current and future clients. After the whirlwind of buying or selling a home we look at our clients as friends!
Thank you for considering us to be on your side for buying, selling or renting a home. We appreciate the opportunity to get to know you and hope everyday is better than the next!
Press On!
WR MOTTO
WR is large enough to do the job, but small enough to care.
In the heart of historic Mechanicsburg is an inviting hometown realty office and professional staff that is ready to help you with all your real estate needs. Located by the railroad tracks on Walnut Street in the 1852 historic L. M. and George Hummel coal building, Walker Realty can find that "one-of-a-kind" period home, a traditional ranch or two-story house in town or out in the country, or country acreage for building the custom home of your dreams. You will find a warm and friendly atmosphere when you call or visit M. C. Walker Realty - stop by just to say hello!
WR Mission Statement
We are here to work with you and we will work our hardest to get what needs done, done! In hopes for a better tomorrow for your family, WR will always be ethical, cordial and persistent representing you in the best way possible.
We believe family comes first in all aspects of life and we will always help to get your family in the best housing situation possible. Working together will make both of us stronger and happier people. We want to be on your side, in your corner, to help fight for what you need and want. Allow us to work for you!
WR Staff Biographies
Mark C. Walker, Broker/Owner

Mark has been in real estate for over 49 years. He helps sellers and buyers through the real estate process and knows all the ins and outs of the profession. He LOVES coming to work everyday and his door is always open. He is passionate about the Borough of Mechanicsburg and has sat on the Main Street Commission Board, which encourages downtown businesses.

Mark's six children are his life but his 16 grandchildren he is overly passionate about, trying to spend every extra minute at one of their track meets, soccer, baseball, football or basketball games.

He has been known to go for a hike to clear his mind. Mark also enjoy skiing, basketball, cook-outs, the beach and hanging with family and friends.


Office: (717) 697-9487

Mobile: (717) 439-6145

Matthew Walker




Christine Walker Skozilas
Chrissy sold $8,134,527 in real estate in 2017 and over $8,000,000 in 2016, number 83 out of all the realtors in the Central Penn MLS (over 3000). She will work hard for you in the field. Emailing you new listings to the point that you may think she is crazy, but she is always out there looking for new homes for her buyers. She is motivated by her passion for real estate and helping clients accomplish one of the biggest financial decisions they will come across. She understands the importance of communication and always wants everyone to know how important they are to her. She is a middle child so she tries hard to make everyone throughout the process comfortable and happy.

Chrissy is a graduate of Trinity HS (1999) and LaSalle University (2003), played basketball starting in kindergarten and played through college as a Division 1 athlete, is a mom of two beautiful girls, enjoys hiking, paintng, skiing, cooking, hanging w/ family and friends, loves sweets, the beach and the lake!

Michael G. Bennett

Always ready to lend a helping hand, his calm, compassionate attitude toward others is a hallmark of his nearly 29 years of experience and service. Walker Realty Agent of the Year: 1995 and 2011. Mike & Lynn celebrated 35 years together in 2017, and enjoy the achievements of their four sons. Mike is a PIAA Basketball Official, Volunteers with Special Olympics and his Church. He is Judge of Elections in his home precinct, enjoys family, beach trips, hiking, Pennsylvania History, and writing. Mike & Lynn are active w/MarineParents.com and support and appreciate all of our men and women in uniform, our Veterans and our first responders.

Since 1993 Michael, as Our Office Manager and a PA Licensed RE Salesperson, is an integral member of the Walker Realty family. Mike handles numerous roles in support of the Walker Realty Mission. Our Buyers, Sellers, Rental Property Owners, Tenants, Contractors, Service Companies and Our Agents all benefit from Mike's professionalism, availability, attention to detail, and friendly manner. 

Home: (717) 774-3951

Cell: (717) 645-8072

Melissa Baer

After 10 years of practicing law, Melissa decided to follow her heart and pursue her passion for real estate. A graduate of Indiana University of Pennsylvania (2001) and Penn State Dickinson Law (2006), she joined Walker Realty in 2016. Her genuine enthusiasm, organizational skills and attention to detail, as well as her education and legal experience, serve her clients well. She never gets tired of looking at houses and helping people find exactly what they are looking for. When she's not helping her clients, she's playing with her young son, baking, reading or walking the dog. She and her husband, James, live in Camp Hill with their son, Aiden, and chocolate lab, Roxy.

Mobile: (717) 357-2544
Email: melissa.walkerrealty@gmail.com

Dan Tedesco